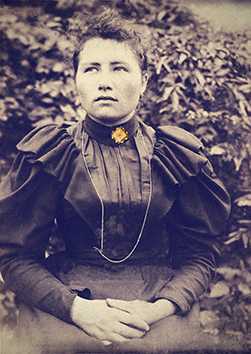 JEANNE MARIE POINT was born on February 5th, 1877, in Serrières (71). Her parents were winegrowers and farmers in Vergisson (71). She started to learn this work at a very early age by observing her parents and by helping them in the vineyards since she was an only child.
Jeanne-Marie's maiden name was Lassarat.
Her maternal uncle, M. CANARD, was a recognized carpenter who was assigned to help building the wooden framework of the church of Saint Amour (69) and the town hall of Charnay (71).
She married on November 23rd 1895, in Solutré in the heart of the Burgundy vineyards, to M. Claude POINT, a truly loving marriage.
Mrs. Jeanne-Marie POINT lived with her husband in a winegrower's house in Pouilly, in the parish of Solutré-Pouilly in Burgundy.
At the age of 22, she gave birth to her only son, M. Benoit POINT, on 9 September 1899. She had only one child because she wanted to raise Benoît properly with the means she had.
Claude POINT died in 1903. Jeanne-Marie became a widow at the age of 26.
She wanted to keep her vineyards, so she buckled down to the task and became a female winegrower, working more and better than a man, devoting herself entirely to the vines and her son. However she was still not accepted by the winegrowers of the village. She had to do even better to prove herself.

Miraculously for the time, she managed to do this, and better than some!
A hardworking and cheerful woman
 MADAME VEUVE POINT used to sing (in the vines, at home…) and dance to the violin at the village dances or when she visited friends who liked to dance. Her son Benoît learnt to play the trumpet and would often play to celebrate the end of harvest…
MADAME VEUVE POINT occupied herself with embroidery in her spare time, making dress collars. It was an opportunity for her to sit down for a while, otherwise she never did! There was always a cat in the house, to keep down the mice of course, but also as a companion. Their relationship with their horse, which they used to plough the vineyard, was also very affectionate. He served them well and in return they took good care of him, almost like a member of the family, and were proud of him too.
MADAME VEUVE POINT always made her own home made preserves and pickles. With Benoît, she prepared snails, a local Burgundy speciality, and she knew all the spots for picking mushrooms. Summer was the season for preparing food for the rest of the year. Mirabel plums and cherries in alcohol were stored away for special occasions. She also made viperine, a kind of alcohol with a viper in it, reputed to give strength and cure colds. All plants had their uses…