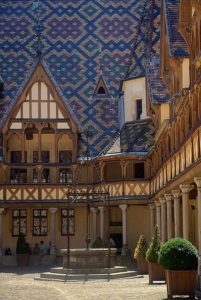 Humble excellence…our guiding philosophy which we also apply to our winemaking, maturing and bottling.
The grapes are at the centre of our preoccupations during the process which allows us to extract their very essence, with one key objective in mind: control over the quality of our products.  We carry out meticulous checks at every stage of production.
The grapes, which once at perfect maturity are gorged with sugar, are delicately transported to our cellars in Beaune.   It is here, in the heart of Burgundy, that they will be transformed into wine thanks to our modern installations that combine technology and respect for tradition.
MADAME VEUVE POINT could not read, but she knew how to recognise numbers. "It takes around 17 g of sugar per litre of juice to produce 1 degree of alcohol".
All our great MADAME VEUVE POINT Burgundies are made in Beaune.
For the white wines: after being sorted by hand the grapes go directly into the press in whole bunches. The juice extracted, known as 'mout' is cold settled at 10° for 24h to 36h, then transferred to the cellar after sedimentation to undergo alcoholic fermentation in vats or in barrels, during which the grape juice is transformed into wine.
For the red wines: the grapes are hand sorted then destemmed (the berries and the stems are separated) and then they   a second time. 
They macerate at around 8° for 6 days or so depending on the vintage.  This phase allows the extraction of tannins,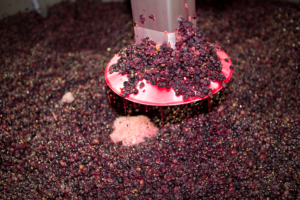 the subtle aromas particular to each appellation and each terroir and also to extract the colour contained in the grape skins. Throughout the period of alcoholic fermentation the cap is punched andthe wine is pumped over to bring out all the aromatic power of the wine. When fermentation is complete, and after a hot maceration, the wine is pressed as gently as possible and put into barrels.