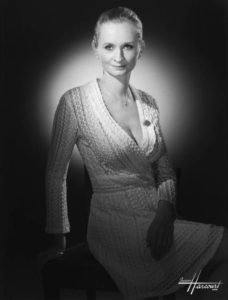 MADAME GÉRALDINE POINT,
THE GREAT-GREAT-GRANDDAUGHTER OF MRS. VEUVE POINT
Starting in 1985, MADAME Géraldine POINT worked in the cellars of her great-grandfather, thus learning about this field of work at a very young age.
For instance, she would help him with labeling and observed him selling, to travelers from France, the United States and elsewhere abroad.
When her great-grandfather asked her what she wanted to do when she grew up, she said, "I want to sell Burgundy wines to the Germans!"
Her multilingual parents spoke Turkish, Portuguese and English fluently, so she learned German! She grew up in Egypt until the age of 9, spending all her summers in Solutré (South Burgundy). Then, once her family returned to France, to the idyllic Burgundy region, MADAME Géraldine POINT even worked during her university studies in wine, such as with the Maison AUVIGUE (a renowned Burgundy wine merchant), as manager for Scandinavian sales development in memory of the kindness of her great-grandfather in lending his press to the owner's grandfather.
In 2001, once she finished university, MADAME Géraldine POINT worked for Jean Paul SELLES wines for 9 years, being promoted from assistant manager to continental Europe key accounts manager. The firm sold wines from Burgundy, Beaujolais, the Rhône valley, Provence and Languedoc in wide distribution.
As a lover of the German language, she always used her skills in the German market. For years, MADAME Géraldine POINT took "accelerated" evening courses to perfect her tasting skills.
In 2009, MADAME Géraldine POINT very logically joined forces with her husband, who had just invested capital in Grands Vins Sélection. Since then, she has passionately worked as a commercial manager, dedicated to European key accounts. We commercialize wines from the Loire, Burgundy, Beaujolais, the Rhône valley, Provence, Languedoc, the Southwest and Bordeaux regions.
In 2015, she perpetuated the work of her ancestor, MADAME Jeanne-Marie Veuve POINT to revive the quality of her great Burgundy wines, in close collaboration with talented winegrowers who have been long established in Beaune, and whom she had known personally since childhood.
Her favorite appellation is white Pouilly-Fuissé for its pale gold robe, its minerality and its lily notes blended with delicate hazelnut aromas. With perfect balance, she finds its palate is ideal!
For reds, MADAME Géraldine POINT has a particular talent for selecting the best grapes from plots in Chorey les Beaune or Fixin. She adores the vast aromatic palette they develop: their floral notes blended with ripe berry notes and a thrilling velvety character that caresses the palate, but also for the appetizingly persistent taste they provide.