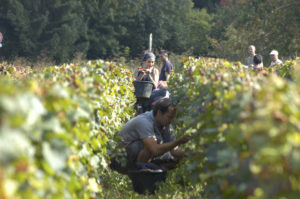 Two magnificent seasons are necessary to pass from the flower to the ripe fruit.  We usually begin the grape harvest around the 15th September.  As Madame Jeanne-Marie POINT often said, "a good wine starts with a good grape." All the grapes need to be fully ripe, but not over ripe, with good acidity while still having full phenolic (tannins) maturity.
Over the years we have strengthened close links with winegrowers whose work is irreproachable and whose quality of crop meets our strict specifications.  Establishing long term contracts with these men and women of passion gives us the assurance today of working with the very best grapes.   Once the grapes have reached perfect maturity they are harvested early in the morning, as early as possible to ensure that they remain fresh and cool, and delicately transported to our cellars in BEAUNE.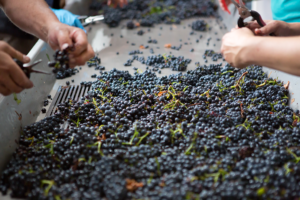 In Burgundy, before sitting down to the harvest feast, the grape pickers of the different appellations of the Côte d'Or indulge in a little ritual… a bit noisy, but fun. Just after having cut the last grapes, they go through the vines and the streets honking their horns and shouting to let the other domains know that they have finished picking. Just like the story of MADAME VEUVE POINT, Burgundy remains attached to its traditions!